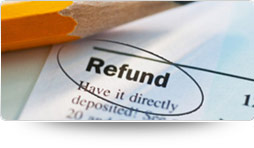 Refunds
Refunds are at the discretion of back2schoolmackay.com.au and do not apply to delivery fees.
Refunds for back to school packs carry a 15% fee which will be deducted from the value of the refund and the below requirements must be met.
For an individual item an exchange or refund will only be offered provided that
the item is returned within 14 days of purchase.
the original receipt is provided with the item.
the item is in its original condition and remains unopened with original packaging intact.
Unless these requirements are satisfied back2schoolmackay reserves the right not to offer a refund or exchange.
For any cancellation of orders not yet packed or dispatched an administration fee of $12 will be deducted from the refund.
Events beyond our control
back2schoolmackay.com.au will not be liable or responsible for any delay or failure to perform any of our obligations that is caused by events outside our reasonable control. A Force Majeure Event including any act, event, accident or omission beyond our reasonable control. This would include
storm, flood, earthquake, fire or other natural disaster.
disruption to transport including shipping, air, railways or road.
disruption to computer systems, software, telecommunications networks.
strikes or industrial action.
back2schoolmackay.com.au will use all reasonable endeavours to find a solution by which our obligations would be met despite the Force Majeure Event.